Buy Pantanetti and win RED Socks by REDE - Insert coupon PANTARED in your chart

Free Shipping & Free Returns

Sales up to 50% - Extra 10% : code "HAPPYIG"
Pascual Baylon
Ruby Décolleté
Pascual Baylon
Ruby Décolleté
Last available
Currently not available
The shape on which the shoe is made is it's true soul.
The balance in volumes and the care to the proportions give character to a very traditional model.
The heel is 85 mm (3.4 inches) high and contributes to a slender foot, enhancing the female figure.
Without relinquishing elegance and design, this shoe assures wellbeing and comfort for the daily use.
The absence of the internal plateau confers a natural self-confidence in walking.
Finally, the care in selecting the materials is evident both internally and externally.
The upper is cut into fine suede, provided by renowned Conceria Stefania, one of the most popular luxury leathers producers in Italy.
The shoe lining is made of soft kid leather, shaded naked, with the sock liner reinforced in an ergonomic position.
Color: Ruby
heel: '85 mm (3.4 inches) '
upper: Suede

Didn't you find your size? Would you like to know if a product is available in other colors? Would you like some information about fitting or some advice to find the right size for you? Ask Grace!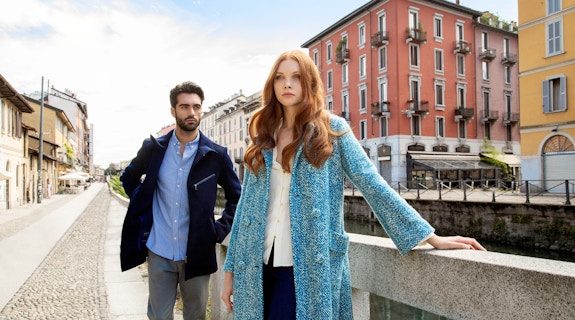 Ero jacket
Ero Jacket is a 100% Italian product, created thanks to the skilful artisanal tradition, which turns a simple garment into a unique creation.