Buy Pantanetti and win RED Socks by REDE - Insert coupon PANTARED in your chart

Free Shipping & Free Returns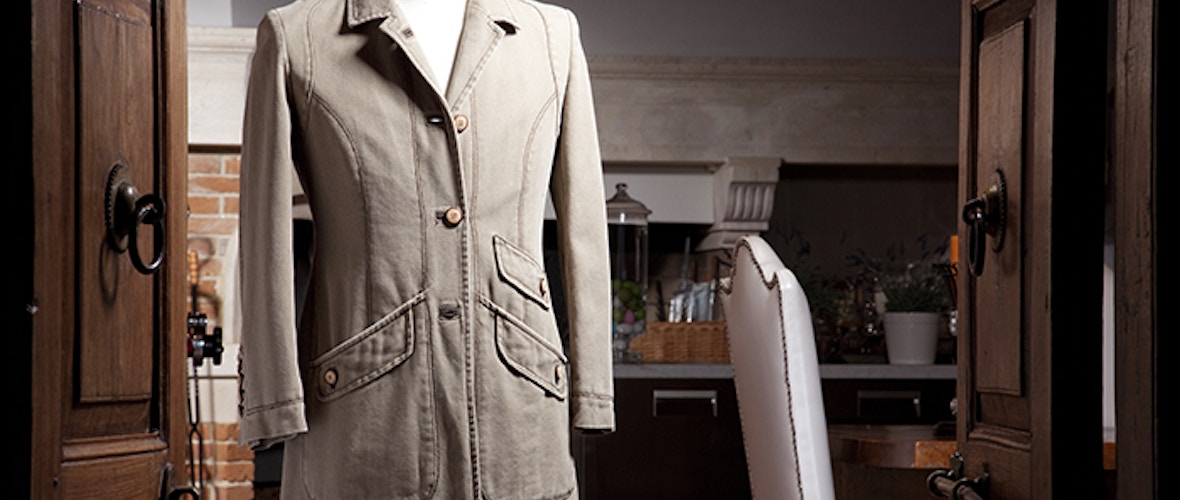 Antica Sartoria di Maremma: between tradition and innovation.
An exclusive interview with Lorella Scheggi, designer of "Antica Sartoria di Maremma".
When and why your company was born?
During the beginning of the last century, Maremma was still a land tied to ancient traditions: there were the "butteri" Italian cowboys, strong and vigorous men, who spent the entire time outdoors, on horseback, to control the herds, forged from the sun and the severe weather, and there were the housewives, women of the past who had the entire house caring in their hands. It was in this setting, so genuine, that in the twilight of his little house, a tailor had an idea: to create clothing that was suitable for the needs of his times. Using his little savings, he started to use natural fibers, like velvet and moleskin in his modest laboratory. Strong and resistant materials that had to be adaptable to any weather condition and to any kind of strain; he would create his models considering the daily needs of who would have worn them, remaining always loyal to the simpleness and 
humbleness of his times. Unfortunately wars and the difficult times ahead for everyone, forced the taylor to abandon his art and his work. That taylor was our Grandfather. One day, about fty years ago, my brother in law, who at the time was a taylor of the small village of "Pancole", found an old trunk well sealed. Inside he found antique tailoring instruments, drawings yellowed by time and various fabrics, all neatly kept. His passion lead him to create, in his small house in the country, the rst tailoring workshop.
Antica Sartoria di Maremma was born right here: natural fabrics and art and exclusively made her. Models that can reinterpret tradition in a modern key, but adaptable to all occasions, versatile and unique as only an artisan crafted product can be.
Antica Sartoria di Maremma is a family business, loyal to the past, but also up to date with modern times; aware of it's artisan craft background, that takes place in the heart of that Italy known and appreciated in all the world.
Projects and new ideas for the future?
Thanks to the cooperation, support and new ideas of Mr. Brando Bigazzi, versatile Florentine businessman, who has been an estimator of our line for years, we are now ready to face new challenges. If until now we stopped at a traditional programming of seasonal products, today we want to get out of the routine cyclically proposing new products. This evolution will distinguish us and we believe that it shall be appreciated by our customers.
We are also ready to leave the Italian territory and to promote our tradition abroad. In line with this project the new image of the photo shoot, catalog and web site: a trip around the Maremma between County Chic and Urban Style, to give an idea of how much our creations are versatile and suitable to be worn by all, in every situation.
What are the typical Maremman clothes and what tradition do they have?
Hunting jackets with zippers, caped overcoats and comfortable trousers made with strong fabrics where the clothes that you needed in the Maremma of those times, just like a uniform for the cowboys, hunters, and the men working on the farms who covered on horseback the forests and the country roads, all working outside with any kind of weather, dealing with the herds and the farming machines, and who had made of hunting a reason of life more than a sport.
Even the landlords of big estates, in choosing their clothes, did not differ much from the ones used by cowboys orfarmers,perhapspreferring to rustic fabrics, softer British velvets or typical Irish tweed. The jacket with foldable rear or with folds that enables to freely move, the pocket on the front with the tip pointing upwards that acts as a reinforcement, the rear pocket, so called "meatholder" (in Italian language called "carniera"), on the hunters overcoat as capacious as possible,tobetter transport food and munitions, as well as the proceeds of some petty theft against countrymen (not surprisingly, the "meatholder""carniera" was also called "thief"), lining in Cutil, even called "Brushing Material", are all features of a traditionalMaremmanjacket.