Buy Pantanetti and win RED Socks by REDE - Insert coupon PANTARED in your chart

Free Shipping & Free Returns
Barber Mind
Bebop beard soap 100ml
Last available
Currently not available
BeBop Bio Beard Soap is a beard shampoo whose organic formulation, devoid of any aggressive substances and parabens, is absolutely new and exclusive in Italy. The effect of this very precious formula enriched with vitamin E will be a soft, clean, hydrated, shining and perfumed beard. Its pleasantly lively and stimulating fragrance was inspired by BeBop music, the nonconformist Jazz style which developed mostly in New York in the 1940s. The notes of the BeBop Beard Soap fragrance are like Dizzie Gillespie's ones: lively, pleasant, full of energy and style.
Many people wonder what the difference between a hair shampoo and a beard one is. The difference is in the skin beneath. The skin of the face is different from the scalp and requires particular hydration and care. For this reason, BeBop Beard Soap contains Tsubaki oil, an encient antioxidant, anti-wrinkle, soothing, anti-infiammatory, hydrating agent, which can also strengthen the skin cell barrier.
Organic formulation, with vitamin E and Tsubaki oil. BeBop Music.
Didn't you find your size? Would you like to know if a product is available in other colors? Would you like some information about fitting or some advice to find the right size for you? Ask Grace!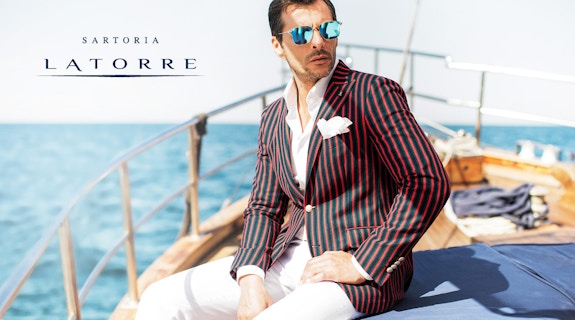 Latorre: half a century of good taste
I would like to think that every great story begins in tiny and silent villages. I would like to know that every great story could actually come out anywhere. I would like to think that every place brings in every great story, perfume and unmistakable tastes.